30% auf alles mit dem Code BLACKWEEK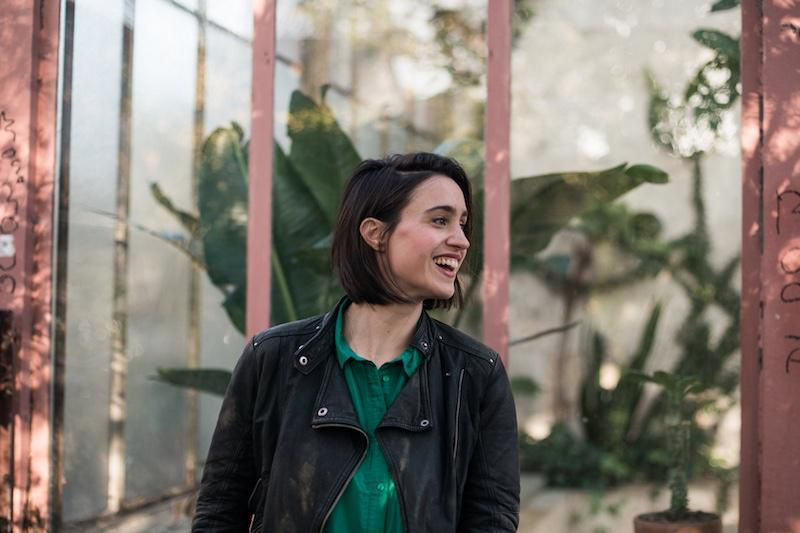 Anastasia Dimitriadou, Entrepreneur & Life Coach
Driven by the vision she had for her life, Anastasia chose to courageously pursue her dreams making bold decisions to get to where she pictured herself. The young entrepreneur is the founder of the food experience agency Bite Me Crew and the co-working space Villa Kultur in Copenhagen. We talked with her about how she challenged her status quo to now find herself as a successful girlboss.

Meet Anastasia: Dreamer, creator, entrepreneur, life coach, eternal optimist and true believer in people's personal abilities to create the life of their dreams, where they can do, be or have anything they like. Anastasia doesn't only have two businesses, she also works as a life coach for women.
In our interview, she shares exclusive and actionable advice on goal achievement and time management, a sneak peak into the world of a business woman and a ton of great energy and inspiration. 
Can you tell our readers a bit about your background and what journey led you to starting your own businesses?
Yes, of course. My name is Anastasia and I grew up in a small town in southern Germany. My family had several Greek restaurants and although I never wanted to take over those businesses I knew that one day I wanted to have my own company. That dream led me to study business administration in Vienna, but I quit after four years without reaching a degree. It was too frustrating studying so hard, but still failing exams, not getting into the entrepreneurship major I really wanted to get into and simply feeling lost in traditional academia.
One night I was procrastinating studying and started reading a business magazine which portrayed a "no degree, no books, no teachers but peer to peer, project based, self-development, entrepreneurship school" in Amsterdam. Reading this article gave me goosebumps all over my body and I knew right then that I had to start my own entrepreneurial journey and attend such a school. So I quit my university, my apartment, my degree and basically my whole identity to go to Amsterdam, join the school and at the same time start my first business "Bite Me". 
What was the most challenging part of that journey and how did you overcome it?
I remember the most difficult part was to follow through with my decision. Most people say decision making is hard, whereas I thought: I know I want to go do MY thing, so decision - done. But to actually act on it took guts. Saying no to the "secure path" of regular education and saying goodbye to my emotional support of friends and family who weren't exactly happy with me leaving. I had almost no savings, 1000 Euros to be concrete. I had no idea how to make money so quickly to pay for the tuition fee as well as living expenses and didn't even have a clue what kind of business to start.
So all in all one could say the fear of failing was the biggest challenge I had to conquer and that's still sometimes a challenge until this day. I certainly had to extend my sense of faith, but I remember thinking: I just have to stay busy in good energy, meet and talk to likeminded people, read contemporary articles, meditate to keep my mind calm and only take one step at the time.
"There is no better time to start something than now"

What is the biggest lesson you learned on your way to becoming a successful entrepreneur?
Wow, there are so many lessons. Where to start? Ok, let me see. One of the big ones is to start before you are ready. Back in 2012 when I started, I thought I cannot start just yet, I need more experience, I need more knowledge, I need more money, I need to be more connected, I need someone to help me. But the only way to get going is to get started. Now. There is no better time to do it.
Another lesson that is still accompanying me to this day is to not be overwhelmed with all the unknowns. Taking on new business adventures also means taking risks and I can't have all the answers upfront. What helps me get out of this rat race is to think of the following picture of riding on a bike and only concentrating my view on the spinning wheel in front of me, but not to look ahead on the street. All I need to do (and keep doing!) is to keep the wheel spinning and the path will unfold. This helped me a lot when I was once a fitness instructor in Greece and had to cycle up mountains and I notice it also helps me stay calm and clear in my business.
Another big lesson is to do the number one thing that will bring my business further as the first thing in the morning, instead of after answering e-mails or taking on meetings. This way I can always stay on top of my game instead of running after other people's agendas. No matter how uncomfortable or long it might take, take the biggest mouthful first, then go to the easy breadcrumbs.
Reading through my answers here, I can see that all my lessons evolve around taking action. Haha, yeah that's me. 
One of the businesses that you co-founded, Bite Me Crew, offers a new and fun take on dining experience involving creatively and interactively presented food. What was the main inspiration and motivation behind that business idea?
I guess it all started with my curiosity for people and food (notice that it wasn't a passion yet). As mentioned earlier I come from the restaurant world and loved working in service and hosting our guests. At the same time I was interested in cross-culture cuisine and creative artsy setups, visual concepts and interaction. 
Back at the business school in Amsterdam I was fascinated about how all these brilliant and forward-thinking minds I was surrounded with were rich in their words, thoughts and ambitions, but poor in what they put into their bodies. I thought how is it we can talk about the world of tomorrow and eat the food from yesterday. Metaphorically speaking, of course. We gather around talks on collective leadership but eat the same old chips. Why couldn't we instead have food that would stimulate both our senses
and
support our thoughts. This is where we started experimenting with conceptual food and slowly everything turned into wanting to give people food experiences worth remembering. 
So now we like to develop and run interactive setups that allow for creativity and collaboration, which means that sometimes we like to connect glasses so people can't drink alone or hang food from the ceiling, make appetizers for the nose or hide a surprise under their chair or design food to accompany certain values.
"Make a huge ass big vision for yourself and imagine what it would bring to you if you went for it"
Another business you co-founded is Villa Kultur - a working place for many companies and freelancers. How did that idea come to life and what was of the most importance to you when founding Villa Kultur?
So, we started Villa Kultur in 2017. We actually never had the intention to start a business like that but sometimes life throws these opportunities at you and then you just have to grab them. So here we already had an office in this quirky Villa from the 1920's in Østerbro which we found through a random conversation with a friend of a friend. It was run by the municipality as a culture house but was challenged for many reasons, so they wanted to close the whole building unless somebody from the community had an idea that could rescue the house.
Together with the rest of the community, we didn't have to think for very long to do something about it and got together with another company called Forvandlende Fortællinger and founded Villa Kultur, which is a platform for crazy creatives that want to change the way culture works. By day you can find a co-working space for designers, journalists, photographers, movie makers, food enthusiasts, writers or journalists and by night it turns into a space for concerts, exhibitions, workshops, talks, dinners and sometimes parties.
What was important to us was to facilitate collaboration between the companies through curating certain profiles to sit in the house or by monthly morning meetings, workshops or Friday bars or parties. This way we have seen many offices work together and use each other's competences. I love when that happens. It's creating a work community that feels like a family to me, where I can be of value to others around me and am allowed to be authentic to myself. Villa Kultur is my work home so just like at home I care for having good coffee, being able to take off my shoes and feel at home, literally. 
Besides running these very interesting businesses you also coach future entrepreneurs and creative souls. What motivated you to follow the coaching career?
I believe coaching is something that I have done all my life without finding a word for it. I have always been interested in uplifting others, listening to stories and finding solutions to problems. I am a great dreamer which is handy when helping other people find their own dreams. After my own path in life became about figuring out "how the fuck do I live the life I really want", I discovered coaching as a profession and went to a great coaching school in London to get educated. That was one of the best decisions in my life. I can see the results it brings with the women I coach and that simply warms my heart. When they finally reach for the stars in small and big continuous actions and I get to witness their journey I feel just a feeling of belonging and meaning which I wish for everyone to experience.
"All my lessons evolve around taking action"
What are some of the main issues and concerns that you address in your coaching sessions?
Some people come to coaching because they find themselves stuck between too many options to navigate. They might want to quit their jobs and do something else, but don't know how to make the jump. They might want to start their own business, but don't know in what. Or they already have their own business, but they are stuck with jobs that mostly pay the bills and are lacking a sense of fulfillment. I also have clients that simply feel overwhelmed with all their roles as parents, spouses and business owners and need to find ways to get back in balance. I help many of them to find their real desires, set priorities and make an actionable plan, which I hold them accountable for. I find that most people lack the engine for starting their own endeavor because they don't know how to start and what to do and this is exactly what I can contribute with. Starting something has never been my problem.
Many dream of running their own business, but not so many actually make it to that point. What is your number one advice when it comes to starting the entrepreneurial journey and continuing pursuing own dreams?
I think what is holding back most people is that they get too short-sighted when they think about their life and are not willing to make sacrifices. Not everyone is willing to let go of comforts in their life, like financial benefits or social activities. So the first thing I do is ask people about their vision in their lives. Make a huge ass big vision for yourself and imagine what it would bring to you if you went for it. Maybe you would feel extremely creative, had staff that would support you and you could spend most of the time doing things you love. Then find out why you want it, because if your purpose is not strong enough, you might just let your dream go again when it gets tough. And lastly it is action again. Make a strategy, get a plan and go do the work. No thinking can make our dreams become reality.
"Stay busy, in good energy, meet and talk to like-minded people, read contemporary articles, meditate to keep the mind calm and only take one step at the time"
What inspires and drives you personally on your entrepreneurial and coaching journey?
I love the freedom of realizing ideas that come into my mind. And I get ideas from anything around me, conversation with people, travels, reading books, watching movies, anything really, nature. So I guess in short, it is constant creation. That is the best part about being a grown-up, nobody tells me what to do anymore.
I always ask myself: What do I want? How would it make me feel? Does it fit into my big picture vision? Yes? How can I make it happen? Who can I ask for help? Who can involve? I love working on projects with people I like. So here again, I love spending time with good people and being an entrepreneur allows me to spend the time with the best people I have around me. I feel so lucky to be able to do that.
What professional and personal advice would you give your younger self that you think would have helped you along your journey if you knew about it?
So, the biggest professional one would be: Go ask for favors. Be bold and big and ask until you get it. Don't wait for people to see you and pick you up.
And a big personal one: Be patient and enjoy the now, whatever it is, because no matter what is going on, you are on the right path.
"I think what is holding back most people is that they get too short-sighted when they think about their life and are not willing to make sacrifices"

Are you currently working on any new exciting projects that you can reveal?
Oh yes! One small thing I'm excited about in Bite Me these days is that we've just set the date for the next Vild Vin Festival on May 11th. It's basically just one big tasting and celebration of great wines, good food and life in general.
At Villa Kultur we are busy working on a new cultural program focused on the cultural creator of the future filled with talks, workshops and new art experiments. We got news of funding for the project just before Christmas and it will all launch during spring.
Finally, one of my big dreams have always been to make more online content and do creative movies, courses and interviews around the topics I love. We have only just begun this development which you can see in videos and blogs on Bite Me's website and I think 2019 for me will be crazy with online content on all platforms, so keep yourself updated out there.

We are always looking for more inspiration. Can you share your favorite Instagram profiles that we and our readers simply have to take a look at
Yes, I love looking at these ones: @simplyrealhealth, @culturetrip, @fikiadaretreats, @girlsareawesome and @ohhhmhhh
Thank you very much for the interview, Anastasia!
➸ Head over to Anastasia's inspiring Instagram account for inspiration, great energy and only positive vibes. You can also get in touch with Anastasia by email at hey@anastasiadimitriadou.com

If you liked reading about Anastasia Dimitriadou, you might like our interview with social media consultant Elina Neumann or our conversation with ArtFusion Copenhagen founder Louise Autrup.
Interview by
Mermaid Stories

Photos Courtesy of
Aurelia Hostettler and Karina Waliczek