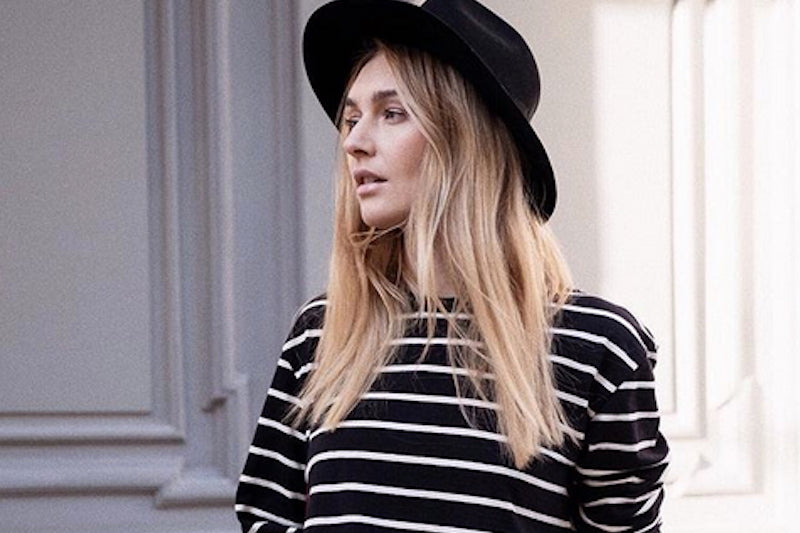 Elina Neumann, Beauty Enthusiast & Social Media Consultant
Some people are born creative souls that have a desire to share and create, that long for adventure and aim to make a difference. Multitasking several jobs at the same time, running an own blog, a side business and traveling the world, Elina Neumann is certainly one of those people. 


With experience from multiple professional areas, and with a passion for beauty and colorful lifestyle, Elina founded the German blog BARE MINDS to share her advice, inspire and help women to reconnect with their inner and outer beauty and to build a great relationship with themselves. In the following interview, Elina shares her thoughts on the challenges that bloggers face, on her favorite beauty products and adventurous lifestyle.

Dear Elina, thanks a lot for taking the time! To start, we would like to know how you became a beauty blogger?
Thank you for the great opportunity. I worked in a PR agency for quite a long time when I decided to be free and independent. This was the birth if the idea creating a beauty destination. I started my blog back in 2015. To be honest, I wasn't really sure what I was doing. Originally I studied fashion design, so I already was into the beautiful things in life.

With my blog I always had an idea to inspire people and create a platform where beauty isn't just about lipsticks. Beauty is much more, it is about self love an a healthy relationship with yourself.
Did you blog full-time from the very beginning?
No, at the beginning I was working in a PR Agency as Senior PR Consultant and team leader. After one year, I decided to work freelance. Now, two years later I'm responsible for content strategy, social media and influencer relations for different brands. I am part digital consultant, part Social Media consultant, marketing expert, part creative director, part photographer, finance manager, part expert at connecting people and part writer... Not to mention, I can make great tea and a fantastic breakfast. And of course, I am running BARE MINDS and one year ago, I started a food business with my boyfriend, named About Fuel.

A true Mermaid - Elina Neumann

We can imagine it is tough to be a blogger today since your followers expect constant updates and new pictures. How do you free yourself from the thought that everything has to be perfect?
Of course, the business isn't easy, it is tough, because there are a lot of great people and blogs. You definitely have to love your job and be creative and trust yourself and never forget to have creative breaks and collect new inspiration. I would say that this is one of the most important things - being inspired. 
What is your recommendation for someone who isn't very familiar with beauty products yet to develop a nice routine? Where should one start? It can be overwhelming with all the products there are…

That is a good question. The most important thing with beauty is that you have to be open for it. If you are not familiar with beauty products yet, but want to develop a routine, start with the most important - a cleanser and a day cream. You can also start with a serum and a beauty tool, such as a jade roller - beauty tools are more fun than you think. But always keep in mind that beauty is about spending time with yourself.

On her blog Bare Minds, Elina shares her best beauty advice

What are some new beauty brands on the markets that you really like? 
Oh, that is a hard question. I'm not using 100% organic brands, but there are a few green products in my routine that I adore, because of their modern philosophy and values. Not all of them are new, but all very interesting - Skin Regimen, Josh Rosebrook, MUTI, Whamisa, Lovely Day Botanicals and OZN. The brands themselves enhance the social responsibility, sustainability, encouragement for the change, charity aspects and premium quality in the products and services range.

Last year, you released your own nail polish in collaboration with OZN. Could you tell us more about this project?
I know Nina from OZN from the beginning of blogging. I love the concept of the brand and the products. Since Nina is often in Berlin for private reasons, we have become more friends than business partners over time. At the beginning of 2017 she simply asked me if I wanted to create a varnish together with her. Since we have quite similar attitudes to the subject of beauty and I stand 100% behind the product, I of course said yes. That was one of the best decisions I made last year and I'm still glad that she asked me.

You have recently also started to include more topics, such as travel. What were your favorite destinations in the last year?

That's mean! I love to travel and discover the world. I have a real longing for adventure. Every country, every city and every continent is completely different and special in its own way. In fact, I am a big fan of Copenhagen, Cape Town and LA. But Bali was also beautiful. This year I had planned to travel more in Europe: Mallorca surprised and fascinated me with its mountains and beaches.  
Elina collecting new inspiration from breathtaking views on Bali

Traveling is probably only one of the perks of your job. What do you like the most about being a blogger?
Since I am not only a blogger, but also work as a consultant, I am not quite flexible. Nevertheless, I love the freelancer life, because it is so flexible and very exciting. You do so many different projects, you grow on them and you learn so much. As a blogger, you are of course also a lot on the road and able to discover new brands, their concepts and philosophies, but I also love the artistic. As a trained fashion designer, I love photographing and developing atmospheres, settings and moods. I would like to do this kind of work more in the future.

A beauty expert admiring the beauty of LA

What is challenging these days when being a blogger?
Unfortunately, bloggers are still underestimated so much, but it's a very serious profession that you can compare to a magazine. If you do it professionally, it's editorial work. We do research, take photographs and write articles. As I said before, we don't just take pictures of ourselves - we develop concepts, photograph and advise.
You are doing a lot of interviews on your blog as well. Who would you like to interview one day?
Of course I could list one or the other celebrity, but I am also interested in the thoughts of people like you and me. I would love to talk to Madeleine Daria Alizadeh and Violette (French make-up artist, note of the editors) about beauty.
What are you doing this year? Do you have any exciting projects coming up?
This year I have done many consulting jobs, but now I want to concentrate more on my own projects and trying to work even more creatively. I don't want to talk about it much yet, I want to try to implement it first :-)
Last, but not least: could you tell us some of your favorite Instagram accounts for inspiration?
Of course:
Thank you so much for the interview, Elina!
➸ Head over to Elina's inspiring Instagram account to keep up with beauty trends and Elina's adventurous lifestyle

If you liked reading about Elina, you might like our interview with Artnight founder Aimie-Sarah Carstensen-Henze or our conversation with Zurich-based beauty influencer Victoria Steiner.
Interview by Mermaid Stories
Photos by Elina Neumann