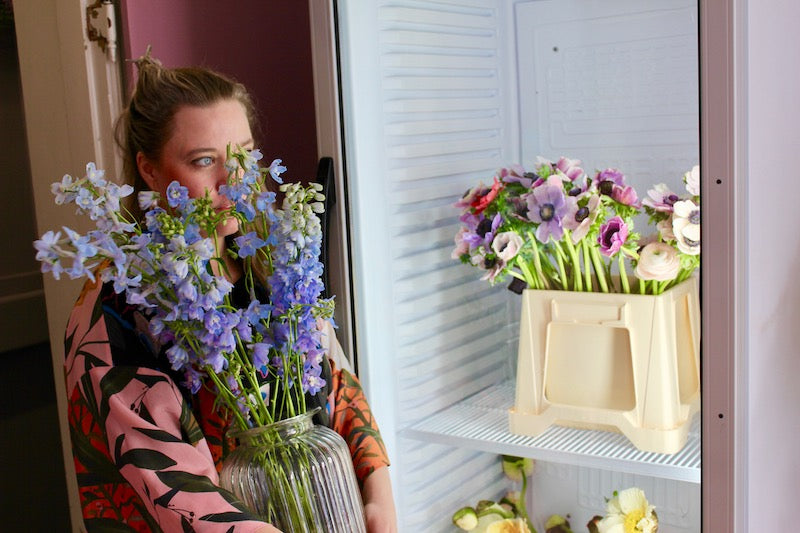 Thilde Maria Kristensen, Founder of Poppykalas
#TIMEFORCREATIVESOULS

After a career in the theater industry and as a producer, Thilde Maria Kristensen switched to solely focusing on styling flowers. With great success: Within short time, she has become one of the most demanded creatives in Copenhagen and is working both for international companies and private clients. 

Thilde Maria Kristensen started her flower styling studio Poppykalas because she missed being creative in her job. These days, she is able to express herself in one of the most beautiful "materials": Flowers.
With flowers being the new it-accessories for both brands and interior enthusiasts, Thilde has gathered almost ten thousand followers on Instagram who are in love with her arrangements. Her unique stylings are not only used as eye-catchers in shops of big brands, but also get booked by magazines and weddings.
We visited Thilde in her studio in Vesterbro, Copenhagen, where she has created a beautiful world of creativity and new ideas, all evolving around blossoms and blooms. She was in the middle of shooting pictures for a new interior project, her windows presenting Easter decorations with colorful eggs.
The first thing that became visible: The big fridge filled with flowers, which also served as the motive for the first Poppykalas poster by Thilde. But first things first! May we introduce: Thilde, founder of high-in-demand flower studio Poppykalas in Copenhagen.


Dear Thilde, how did you come up with the name Poppykalas?
I love the flower: Poppy. I spent a lot of time at my grandmother's farm named Krogsgaard, located in Thy. She painted huge flower bouquets with a special 3D technique where you paint layer on layer. She also always made flower decorations around the house - almost never in vases, but in big bowls made of the finest porcelain.
She painted flowers everywhere, on the walls, vases, pillows - you name it. She even transformed a wall in the kitchen into one big collage of pictures of only roses. One part of her living room was almost like a jungle to me and a part of the farm was turned into a gallery, where all the German tourists and locals bought her floral paintings.
Her favourite flower and motive was the red poppy, which the fields around her farm also were filled with. When the poppies where dancing in the wind, she called them dancing gowns. I always loved that. Over time the poppy also became one of my favorite flowers and it's such a lively image of my grandmother, so there was no doubt that the name should include Poppy.
Kalas is one of my favorite Swedish words. It means celebration. I think it's important to celebrate life, which you often do with flowers. When you are born into the world, when you get married and even when you die, flowers creates a pleasant atmosphere for your relatives to get through it.
Visiting Thilde at her Poppykalas studio means entering a world full of colors
Did you also have other names you were thinking about?
I knew it should be something with Poppy, I think I was considering just Poppy. But then I talked to one of my best friends and told her that I also really loved "kalas". Then she said, why not Poppykalas?
When did your passion for flowers begin, and how did you end up creating Poppykalas?
My grandmother taught me everything I know about flowers. I hold a BA in Theater and a Master in Modern Culture and Cultural Communications, and for more than 15 years I have worked with communication & public relations in performing arts, specializing in theater & contemporary dance.
Lately, I worked as an independent producer, traveling around the world to Montreal, New York, Helsinki and so on. I missed being creative in my work as a producer, so I shifted gradually to working with flowers. I had two maternity leaves where I tried out very different things. And then I luckily ended up with working with flowers.
What is the most difficult part of working with flowers?
They are a product of mother nature, so they are alive, but at some point unfortunately they die. But then again that's also the beauty of it.
When I started out, I was so concerned about how my "flower children" were doing in the different shops where I did flower accounts, so I could drive by in the evening to see if they were holding up. But I'm over that by now, I learned to live with it - that's how nature works.

Thilde has an eye for unique flowers and unusual combinations
How do you think about the difficulty to handle both the creative and the administrative part of your own company? 
I'm so lucky I have an agency now: Who's Agency which handles almost everything for me. That's the best thing that happened to me, since I started out Poppykalas!
I think you need to try it out by yourself, but at one point you also have to let go to free time to be creative, which was the reason why I started out my company.
Where do you find inspiration for your bouquets? Do you always know how they should look, or is it more of an improvisational process?  
Everywhere in the streets, or when I see a beautiful dress or a sophisticated woman. While my educational background might seem far from the floral world, I draw on my insight into modern culture and the performing arts when I am composing my floral arrangements. Also in popular culture. I'm very inspired by Japan and their way of arranging flowers with the technique called Ikebana.
When I started out, I was so concerned about how my "flower children" were doing in the different shops.

Do you have a favorite flower? Or a type of flower you prefer to work with?
I'm not a favorite kind of girl, but I do love the poppy. I love to work with the Anthurium also known as the "flamingo flower", because it looks like plastic and comes in the most stunning colors.
Also I love to work with Lathyrus, because it comes in pastel colors, smells amazing and it can save everything with its delicate texture and fluent charm.
You have recently done an exhibition called "flora in situ" with Rosalina Serup. Can you tell us about the exhibition and how it went?
It was a big and overwhelming experience for me. My first exhibition! Thank you so much for your interest. It consists of eight unique photographs of flowers and we only have three left.
Flowers are used to express feelings between sender and recipient, and can therefore be thought of as performative. Flora in situ plays with the symbolic flowers in contrasting contexts, whereby new meanings might emerge. The flowers have been staged in places such as construction sites and dumps, and arranged in combination with raw materials - plastics, presses and waste.
Flora in situ is thus an attempt to let novel meanings arise between the symbolic flowers and the viewers. Politiken published a big feature about the exhibition - at front page of Ibyen (city recommendations part of the magazine, note of the editor). It has been featured internationally, in Japan and other countries. It was very important to me to nurse this artistic dimension in Poppykalas.



Thilde (on the right hand side) in the middle of a new flower project at her Poppykalas studio
You deliver flowers to a lot of different companies and stores, among them are Normann Copenhagen or Alt for Damerne. How do you approach such a project?
It depends on the client. Some are very specific and others let me decide everything. But mostly it's a collaboration. Actually these projects help me develop a lot, because sometimes they force me to work with sorts of flowers and colors that I would never have chosen myself. I have to be creative within a determined structure and mindset.
What would be the best compliment you could get about your bouquets?
If people tell me it's the most beautiful bouquet or decoration they have ever had or seen I get endlessly happy. In general it's a very giving job to deliver flowers - people immediately smile when they get flowers or just see them.
I have changed my concept, so now I focus on flower styling and events. Unfortunately the web shop with flower delivery was too demanding, but then I have my fridge poster with eternal flowers which you can order in my webshop.
What projects or exhibitions etc. have you planned for the future?
Uhlala, lots of things are coming up:
From the before mentioned exhibition Flora in Situ, I got the idea for my Fridge Poster (yes it's a poster for your fridge) which I sell in my webshop and in the shop DORA and from this I have more posters coming up and exclusive retailers.
I'm also working on a new Poppykalas Exhibition for March 2018 at Buddenbrooks Gallery and I'm collaborating with other artists, for example Chris Calmer, who is working with flowers in a very different way.
In general I'm experimenting in my Poppykalas Lab with working with flowers in different ways - dried and manipulated. From this I'm also launching a new project with Københavns Plantefarveri (@kbhplantefarveri) - they are coloring silk with my waste of flower leaves.
I'm also working on doing four Poppykalas Workshops with different themes and locations in 2018. Then I have a secret project with a Swedish interior company soon to be revealed.
Finally lots of flower stylings coming up for different brands, for example a travel with Vila to Malaga on a three day shoot in a stunning botanical garden. And then of course lots of weddings in the summer, which I am really looking forward to!
The fridge poster by Poppykalas: Inspired by unusual places

If you could choose from every store, company, museum or event that you could decorate with your flowers, which would be some of your dream places to deliver your flowers to? 
There are so many! I would love to collaborate with the visual artist Pipilotti Rist, whom I wrote my thesis about at university. But off course also the singer Solange. MoMA is a beautiful museum, I would be honored to decorate it.
I did a smaller assignment for Gucci, but I would loooove to do more - I'm in love with the floral explosion. I think we have the coolest queen in the world, so of course I would love to deliver flowers for The Danish Royal Family.  
We sometimes see that some of the same flowers are used everywhere for a certain period of time… Is there a flower that you'd predict to be a "trend flower" for 2018?
It changes so fast. But Paphiopedilum, often called the Venus Slipper. I used it for the first time for decoration at a press lunch for Rains at Glyptoteket during Fashion Week organized by Pernille Teisbæk and Social Zoo. It's very exotic and it also looks a little bit like genitalials as does the anthurium, which I really think is interesting.
Can you recommend some Instagrammers that we should all follow for some more flowery inspiration?
Actually I mostly find inspiration at Instagrammers that are not florists. I looove accounts like Solange, Peter Pilotto and Rose Ekeen. Other inspiring florists would be japanese @azumamakoto, New York-based @brrch_floral and of course Berlin-based @ruby_marylennox, whom I drove all the way to Berlin for, to order one of her magical bouquets.
Thank you so much, Thilde!
➸ Do you want to know more about Poppykalas' flowery world? Take a look at her lovely Instagram or visit her website for more beautiful pictures and flowery inspirations.
You liked reading this? You can find more in our interview series Cool Copenhageners. You might for example also like our interviews with the founder of the luxury candy brand The Mallows, Emma Bülow or our interview with blogger Caroline Plummer.  
Interview & Images by Mermaid Stories
Fridge poster & Instagram images by Poppykalas