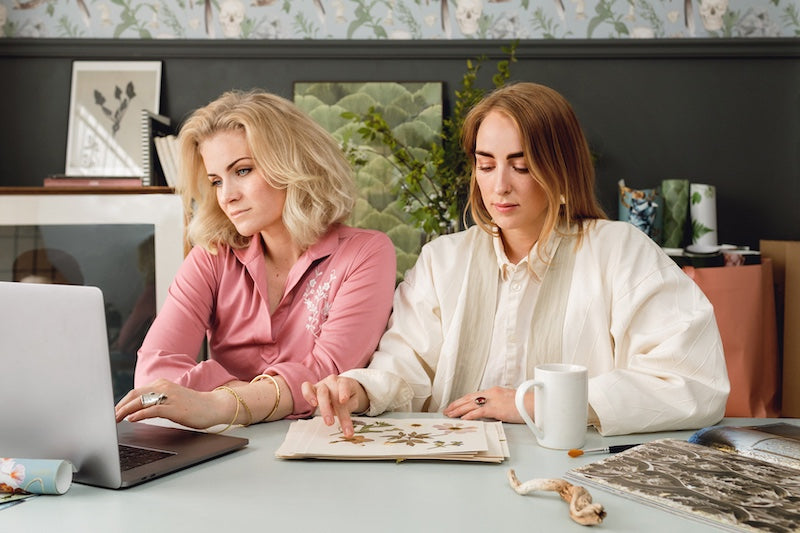 Wallpaper Magic: Meet The Creators of Tigron & Floyd
Patterns inspired by nature and enhanced with modern digital photographic techniques: When we discovered the magical universe of Tigron & Floyd's wallpaper art, we simply had to chat with the founders, Eveline and Hanna, to find out more. 
With its simplicity, lightness and minimalistic touches, Scandinavian design has won the hearts of people all over the world. The trends of white walls, bright rooms and stylish, yet simple interior, have crossed the boarders of Scandinavian countries and moved on to other homes around the globe.
Imagine our surprise, when we discovered a Swedish brand that designs and manufactures outstanding, bold, creative and definitely colorful wallpapers to spice up traditional interior design!
Today let's meet the women behind the Tigron & Floyd brand, Eveline Johnson and Hanna Richter, who in this exclusive interview have shared their passion, behind the scenes of their brand, as well as great inspiration to upgrade your home.
Hanna and Eveline, how do you know each other, and how did you end up creating a business together?
We first laid eyes on each other while studying at Fotoskolan STHLM in 2008. In 2012 we started working together as the photographic duo VANDAL, and as such we have exhibited at Designgalleriet and Fotografiska among others.
A collaboration we did together with the designer named Elin Ivre - an installation called 'Shrine of me', is what first inspired us to the invention of photographic patterns on wallpaper.
You have a background in photography. What made you change business?
Actually we have not really quit photography, we have just found another way to use the craft and our creativity. The fact that we are photographers is the whole foundation of Tigron & Floyd. We see wallpapers and patterns as a new forum for photographic craftsmanship!
Does your photography background improve your work with wallpaper?
The photographic technique both works as a limitation and an asset. Since we photograph real objects for the designs we are bound by the realness of their shape and their flaws. For example the uniqueness of a single flower really comes through with the photographic technique we use.
Inspired by nature's own motives and beauty, Tigron & Floyd designer wallpapers make a unique touch to your home interior

You write about your creative process on your website, how you search for patterns, and that Swedish meatballs and brown sauce are not an easy motive. Can you tell us more about the journey from idea to finished wallpaper?
The way we create wallpapers is a multi-step arts and crafts process, from going hunting for objects, shooting and digitally enhancing every object by itself.
The process of gathering and photographing real things is really fun and this allows us to explore what a wallpaper pattern can consist of. When every object is shot, and cut out we start the process of digitally building the pattern.
Before the actual wallpaper is finished there are a lot of test rounds to our printer in Östersund to get all the details and colors right.
The creation of each wallpaper design is a multi-step process
Do you have a favorite motive so far?
We have several favorites - the pattern "Bergman" from our first collection "Svenskt vemod" holds a special place in our hearts, because it was our first idea for a wallpaper when we started out and therefore it symbolizes the beginning of Tigron & Floyd.
We have it on the wall of our studio in Stockholm. But we also love our floral patterns – for example our pattern "Pompadour Poppy" that we created in collaboration with Poppykalas.
Which has been the hardest motive to get right for a wallpaper?
As in all creative work it is about ongoing hard work and a mix of joy and diligence.  Sometimes the creative process feels like an endless path to discovering the solution for a problem.
For our pattern "Musslor" we created so many patterns and versions before we finally came up with a way to put the shells together that felt right!
Hanna has watched a lot of Youtube videos to perfect origami doves for our print "Kastanjeblad och duvor", and we have spent many hours searching flea markets for a special object that we heard about in a song.
But all of this is a part of the creative process and what makes it various and interesting!
In your opinions, what can wallpaper do for the decorating of a home?
It can be a piece of art, giving a unique and personal touch to a room. Just as art, it can really lift a room and give a personal touch to a space. Wallpaper can be a creative and playful way to express yourself!
The Tigron & Floyd pattern "Musslor" cheerfully decorating a living room
Are your homes decorated with wallpaper all over, or how do you use it yourselves?
The kind of playful freedom we would like others to be inspired by our wallpapers is how we shape our homes ourselves.
We use our wallpapers as a kind of creative artful ingredient in our homes and combine it with woodwork and wall paint to enhance each other. For example, Eveline has "Pompadour Poppy" together with woodwork in a pale greenish blue in her apartment – it is gorgeous!
The Scandinavian style for home decorating has been known for its minimalism, white toned colors and lots of light. Do you think people are starting to change this, and becoming more bold in their choices for their homes?
It is not a choice between all or nothing, between white walls or bold patterns. You could be allowed to have both - to experiment, to be playful, and to create.
We see that Scandinavian interior is moving away from an era of only white walls. We think that people are becoming more curious of what pattern and color can do to a home.
The time has come to be creative, playful and bold when it comes to decorating your home
Your wallpaper is produced with care for the environment, and the printer and colors you use are certified with Svanen and Greenguard. Why is this important to you? 
Of course we find this extremely important. We try in every way, in all the steps of the process, to reduce environmental impact. As a company we believe that we have an environmental as well as a social responsibility in everything we do. Therefore we produce in Sweden, where we can be sure that our product is manufactured in a sustainable way. The fact that our wallpaper is printed on demand custom to the order keeps the waste to a minimum.
"As a company we believe that we have an environmental, as well as a social responsibility in everything we do"
Can you reveal some of the plans you have for Tigron & Floyd in the future?
We have bold plans for the future to expand our creative fields, building stylish and fanciful patterns on fabric and other materials, being an enhancing partner in people's creative home building lives.
This fall we will be working more with businesses and brands in different fields, creating custom made imagery to their needs. We are very excited for this!
If we want to see how people can use wallpaper in their homes, can you recommend three of your favorite Instagrammers or blogs that can help us seek even more inspiration?
@degournay makes the most beautiful hand-painted wallpapers and looking at their instagram account feels like coming into a Marie Antoinette meets Narina world.
@lukeedwardhall is a must if you like colorful and creative interiors!
We also want to recommend checking out @versaillesadness_, for maximalist jaw-dropping gorgeousness.
Thank you very much for the interview, Eveline and Hanna!
➸ Head over to Tigron & Floyd's inspiring Instagram account for inspiration and great home design ideas.

If you liked reading about the founders of Tigron & Floyd, Hanna and Eveline, you might also like our conversation with the serial entrepreneur and coach Anastasia Dimitriadou, or our interview with the founder of Danish fashion brand ArtFusion Copenhagen, Louise Autrup.
Interview by Mermaid Stories
Photos Courtesy of Tigron & Floyd