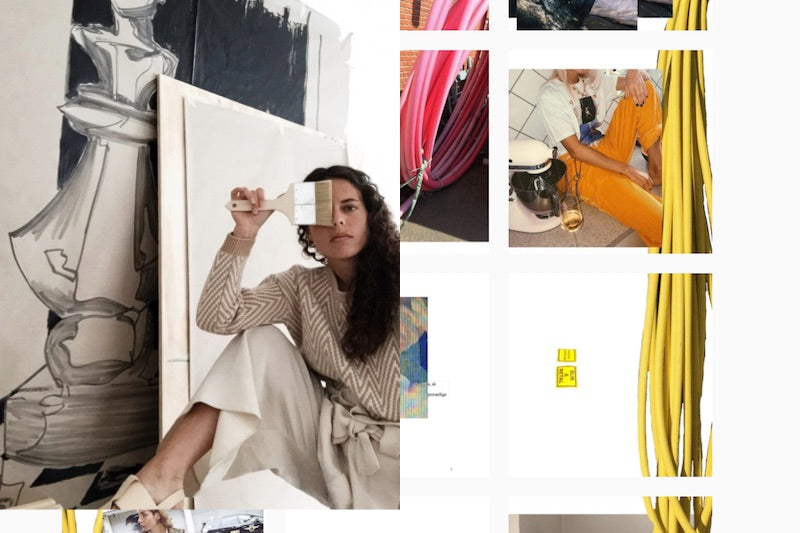 Isabella Hemmersbach, Illustrator & Head of Communication
#TIMEFORCREATIVESOULS

Not everyone can say that their work has been featured in Vogue Italy. The talented Copenhagen-based illustrator Isabella Hemmersbach can: Her fashion illustrations have been printed in many magazines. Next to this, she works at Head of Communications at Chart Art Fair, a Nordic contemporary art fair taking place in Copenhagen. 

In our series Time For Creative Souls, we listen to inspiring creative people that have their very own expression and a unique aesthetic point of view. We talked with Isabella about the upcoming Chart Art Fair where she works as Head of Communication, and her own freelance work as an illustrator in demand.


First of all, thanks a lot for your time, Isabella! Can you tell us a bit about your background and what has led you to focus on your art?
I studied initially both my bachelor and master in International Business and Politics. But I was always interested in art and had art as my focus on High school and since I've followed several artists over the years. Eventually I studied Illustration at Central Saint Martins. 
Did you always know what you wanted to do?
No. I always knew that eventually I wanted to be my own boss, and I wanted to do something creative eventually. But I guess my parents wanted me to first study something "save", but over time I found out that I needed to follow my heart. 
You do not only work with illustrations, but also do wall paintings. How is that different than painting on smaller spaces like paper or canvas?
I love a big canvases, be that a wall or literally big canvas. On the small scale you can experiment a lot, so the small illustrations are sometimes just the first step in the process. My process is almost circular, I do a lot and lot of small illustrations, then I go into Big scale, then I turn three-dimensional and eventually return to the illustrations. 
Do you have a favorite genre or materials that you always get back to?
I love water colour and black pen - especially the colour neutral tint - it has the perfect quality. And also white posco-pen drawings on colourful paper. Every now and then I return to acrylic as well. 
Some painters work better at night, some at day. Do you have a special rhythm for your work?
It varies a lot, but mostly I work when I have the impulse to do something - which can be quite overwhelming and then I just need to realize it. Other times I just need to adjust to the deadlines of my clients (smiles).
Where do you get inspired?
Everywhere, but especially when traveling, seeing new things... And on Instagram!
Next to your free work, you are also the Head of Communication of Chart Art Fair. Can you tell a bit about the concept behind this fair?
CHART ART FAIR is the leading Nordic contemporary art fair which takes place at the The Royal Danish Academy of Fine Arts' Kunsthal Charlottenborg in Copenhagen. This year it will be the fifth anniversary from and be held from September 1 - 3, 2017. Since its inception, CHART has established itself as the international platform for contemporary art in the Nordic region. 
It breaks with the traditional fair format by carefully curating the galleries' artwork and presenting everything in unison as an exhibition, in the halls of Kunsthal Charlottenborg. The exhibition is curated by the five founding galleries based in Copenhagen: Galleri Susanne Ottesen, Galleri Bo Bjerggaard, V1 Gallery, Andersen's Contemporary and David Risley Gallery.
Running alongside the main fair is CHART SOCIAL, a program of cultural events exploring the crossover between art, design, architecture, music, performance, and gastronomy. CHART SOCIAL, which is free and open to the public, will take place at Kunsthal Charlottenborg and various other locations around the city leading up to and during the fair. The SOCIAL program comprises Talks programmed with ArtReview, an Architecture competition judged by Bjarke Ingels amongst others, an exhibition with emerging artists, and a whole program of music in the courtyard. Lastly, in 2016 a new section of the fair, CHART DESIGN, showcasing six of the leading galleries presenting the best of contemporary and classic Nordic design was introduced.
What are your tasks in this function? And how do you balance these two rather contrary "jobs"?
My role is Head of Communications, which entails not only communications through our own channels, but also Nordic press, and international press through Sutton, all of the marketing material, printed matter and some of the public art projects - like the Douglas Coupland project last year.
In all of the graphic work, I practice and hone my visual skills, in the other elements, I learn more about the industry to better navigate. But it is very much two different sides of the brain and I need to be very square with doing either one of the other at different times. 
Since working for Chart Art Fair, do you look at your own work differently?
Yes, much more critical (laughs).
We like to ask artists about a piece of work that has a special story behind it. Do you have one?
This will be my #lefthanddrawing #rightbrainwriting - I started to be bored by my own style and the nature of fashion illustrations, at the same time I cannot help myself but work with it. So I tried to force myself to draw "ugly" by drawing only with my left hand (I'm right handed) and afterwards spontaneously write some words with it (I always have words in my mind when I draw). So I'm trying to escape the tyranny of pretty in these new works - and I start to like my work again, haha. 
I also like very much my new t-shirt project - I love giving my 2D work a 3D dimension! 
You have an amazing Instagram account which is very different to many others, and beautifully curated. How do you make the feed look like it is floating along over time? Do you start with something and it evolves, or is it planned in the long run? 
Thank you! And yes, some things are very spontaneous, others evolve over time. I have always some works that I arrange before and leave some space for spontaneous works, pictures, words etc. so it constantly evolves over time. 
What other Instagramm accounts do you recommend for creative inspiration?
Hmm, there are soo many... @alexcarl for sure, @lea.nielsen.photography and of course @chartartfair. @camillecharriere also really does a good job!
 ➸ Are you interested in more? Discover Isabella's newest work on her Instagram account or discover her portfolio on her website.
Discover our interview series Time For Creative Souls! You might also like our interview with illustrator Mathilde Friis Olsen or artist Emily Grady Dodge.
Interview by Mermaid Stories
Photos: Courtesy of Isabella Hemmersbach