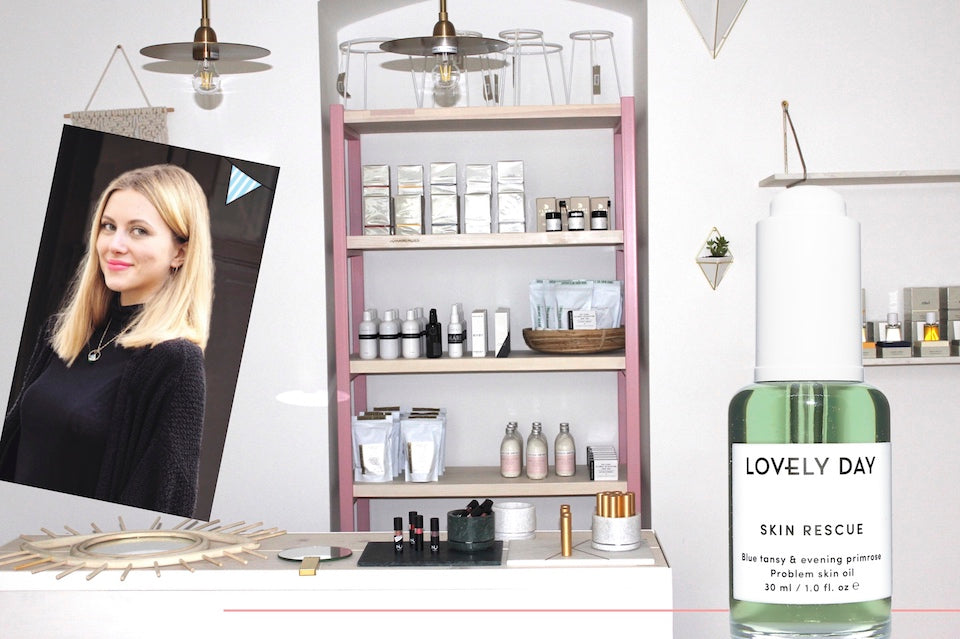 Josephine Förster, Founder of Lovely Day
Started as a one-person-company in the beginning of 2016, Josephine Förster has built a beauty brand that has everything modern women wish for: A clean look, clean ingredients - and a whole lot of dreams founded in high-performance cosmetics. 

In our series Time For Creative Souls, we interview exciting creative people with a vision and an own view on the world. This is what we found in Josephine Förster, the founder of the highly popular beauty brand Lovely Day.
When starting her Berlin-based company, a natural cosmetics brand, she was caught by surprise by an immense interest both from the media and her customers.
With its modern concept, the use of non-animal tested and no synthetic ingredients, Lovely Day has already gained a cult following in just a little more than one and a half years. And you know that we love fairytales at Mermaid Stories!
The fact that Lovely Day also has a Mermaid after sun spray in its portfolio made it even more obvious that we had to meet the creator behind the scenes.
We visited Josephine and her (steadily growing) team in their newly set up studio in Berlin, which they probably soon will have to move out of again due to their fast growth.
It was everything you could wish for: Wonderful dusty rose interior - with even a Scandi chic touch, we would say - and a selection of both their own and some other selected natural beauty brands.
We asked Josephine about the beginnings of her lovely story, how much the creative part really weighs when being an entrepreneur - and her biggest surprises along the way.  
Can you tell a bit about the background story of Lovely Day? How did it all get started?
Well, it all started already in my childhood. I was obsessed with mixing some oils and creams and by the time I was a teenager, I created my own skin and haircare regime and mixing a shampoo or moisturizer became just as normal to me as making dinner.
However, I never really thought about making a business out of it. I studied business, more or less because I didn't know what to do with my life after school, haha.
After that, I spent some years in Australia and became totally obsessed with the whole topic of natural beauty again.
This country inspired me a lot, the smell of hot sandalwood and eucalyptus mixed with a salty ocean breeze, being barefoot all the time, spending most of the time outside - it was just such an intense, sensorial experience, you naturally want to put natural beauty products on your skin and the brands I used over there just blew my mind.
The newly opened Showroom in Berlin, where Lovely Day was founded
When I came back to Berlin I wanted to preserve that feeling and worked on new products - still not with the intention to sell them.
I worked in several start-ups at that time and eventually got pissed off by working 60+ hours for shitty money, so I felt like I want to start my own thing.
At this time, I was dating this guy who saw all my stuff in the bathroom and was like: Why don't you sell it? I will always remember this moment, it was like an awakening. It was like in this very moment where all of my life started to suddenly make sense and there was no question that that's exactly what I want to do.
Next day, I quit my job and got started.
"Australia inspired me a lot, the smell of hot sandalwood and eucalyptus mixed with a salty ocean breeze, being barefoot all the time, spending most of the time outside - it was just such an intense, sensorial experience."
How do you think is the balance between the creative part and the operational part of a business? How do you maintain a balance between these two? 
What a great question. It took me about ten months to set up the business and most of this time was creative work which I absolutely loved.
Even though I studied business, I didn't really take care of the financial and operational part at that time. I was just caught in the creative flow and didn't want to bother about anything else.
By the time I went online, I had a brief idea about how I would handle operations. I didn't really expect Lovely Day to become such a success, to be honest, especially not that fast. So the first year, I was really, really struggling.
I barely had time for ANY creative work, I had to work weekends and holidays just to somehow manage everything, it was a mess. I actually ended up becoming really depressed because that's not how I imagined being a business owner to be like - I thought it was supposed to be at least a little but fun.
The game changed after I was able to hire my lovely employees, six at this time and more to come.
I also took a couple of months of a break this summer to recover from last year's hustle and this fall I will start all fresh again, focusing much more on the creative part again.
What was the biggest surprise or something you were surprised to learn along the way?
Always trust your gut feeling. When I started, I always had this feeling about which direction and which strategy would be the best for Lovely Day. But I was also very young and didn't really have a clue.
Along my way I met SO many people, some professionals in the beauty industry, some successful business owners. I always looked up to them thinking that they probably knew better than I do and asked for help and advice - most of them tried to talk me out of doing things the way I wanted.
Sometimes I would take their advice even though it felt wrong, and failed massively. So one important learning was to just trust in me.
I also learned to just go with the flow, trust the universe and release my need to control things.
At this point, I don't feel like I actively manage Lovely Day. It just develops. It's like a baby and it's going its own way - I just do my best to keep it alive and watch it grow up.
I don't have a business plan and I barely push anything - I just watch what the market demands at the moment and what customers want and react accordingly.
Lovely Day's inspiring Instagram account
How can one imagine one of your typical days as a brand owner? 
At the moment I am single and Lovely Day is pretty much integrated seamlessly in my everyday life. Every Sunday I prepare a plan with to do's for the upcoming week, on Monday we have a team meeting to discuss tasks/problems/goals for the upcoming week.
I spend two to three hours a day working on those tasks and the rest of the day or week doesn't really follow any structure. When I feel like chilling or having a bath I might do that - if I feel like working all day long until midnight I might do that as well. I spend time in the office most days but also work a lot from home, cafés or when traveling.
On weekends when I don't spend time with friends I usually play around in the lab, test new ingredients or do other fun things.
There is no typical work day and I love it. Lovely Day is part of me and I really don't feel like I am "working" most of the time, which is so precious and I am so so grateful for being able to live this lifestyle.
What are the most fun parts about having your own business?
Connecting with so many people who share your passion for natural beauty. I made so many new friends and feel connected to every single customer who uses my products.
I feel like my life truly has a purpose and meaning.
Also, we donate a part of our revenues to animal rescue organizations and I just generally feel like our brand is changing the beauty world a tiny bit for the better. It's super fulfilling and fills my heart with joy and peace. And what's more fun than being at peace?
The products of Lovely Day: From marshmallows to mermaids
Can you reveal a bit about the future of Lovely Day? Where are you heading to?
As I mentioned, I pretty much go with the flow.
At the moment we are about to open our concept store and the Lovely Day website will also turn more into a proper online shop, carrying other brands and products we really love. We will see how we go from there!
Also, we're working on a bunch of new products at the moment, next to come are body oils and new face products. So stay tuned!


Thank you so much, Josy!
➸ You want to try out what we have talked about? Take a look at Lovely Day on Instagram or head over to the Lovely Day online shop and discover the brand's beautiful selection. And yes, they also ship to Denmark (and other countries)!
If you have liked this interview, you might also enjoy reading about gourmet candy entrepreneur Emma Bülow from Copenhagen or the young stationary founder Anna Härlin from Berlin on our blog!
Interview by Mermaid Stories
Photos by Mermaid Stories & Lovely Day